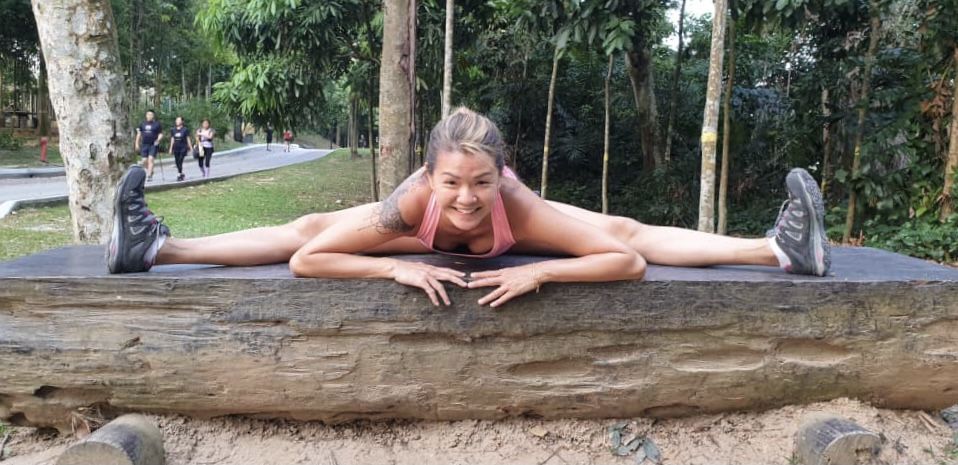 I am Amy, a certified yoga instructor who teaches yoga asana, pranayama and simple guided meditation. My style of yoga combines Hatha with the principles of Iyengar yoga, focusing on alignment, posture, strength and flexibility at a pace that is easy to follow and friendly for beginners. I graduated from Vikasa Yoga Academy in Koh Samui, Thailand with a Yoga Alliance 200-Hour certification. I am also an Iyengar Yoga student who has undergone the Iyengar 120-Hour Foundation Training in Kuala Lumpur, Malaysia.
A suit turned yogi, I had a successful career as Head of Marketing, Planning and Sales for several reputable public listed property development companies in Malaysia. In year 2012 while researching on the subject of Wellness as a concept for a new masterplan development, a seed was planted, one that would be the catalyst for my transformation and paradigm shift in life. In 2017, after a fulfilling 2 decades in the corporate world, I left to pursue something inwardly more fulfilling.
On this journey, I have met many teachers and discovered different modalities. With each phase or experience, the gifts of healing received have been transformative and permanent and my passion in Wellness and Wellbeing continues to grow. I am intrigued with the evolution of civilizations and believe in the human race and our potentials. I am an advocate of Self Worth, a term I prefer over self love although one is inevitably interrelated with the other.
My experience from being a part of the work force for so long equips me with invaluable insights on practical approaches on realistic challenges faced by many and gives me a vantage point in understanding what is needed to bring balance back to the Mind, Body and Soul. I hope to add value to people's lives, motivate and inspire them to live to the fullest the best they can, eradicate fear and embrace vulnerability & authenticity.
Yoga Alliance Certified Instructor RYT 200 hour from Vikasa Yoga, Koh Samui Thailand, and Foundation Training YTT 120 hour at BKS Iyengar Yoga, Kuala Lumpur, Malaysia.
Planned, Organized, Managed, Hosted, & Facilitated RETREATS in Bali & Nepal, WORKSHOPS in KL, public & private yoga CLASSES
Awaken ~The Divine You® up to Masters Certification Level 2
+NEPAL +INDIA +INDONESIA +THAILAND +USA +PERU +CHILE
Instructors Certification Level 1 +THAILAND
CERTIFIED HRDF TRAINER MALAYSIA Team Building, Corporate Training, Corporate Wellness Retreat
24 Years in MARKETING & PLANNING 8 years as Head of Department, Sales & Marketing